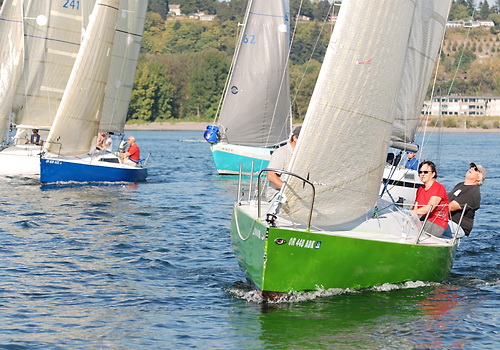 Founded in 1978, the mission of the Small Yacht Sailing Club of Oregon (SYSCO) is to provide Columbia River sailors the opportunity for racing, cruising, and recreating at modest cost. SYSCO is Oregon's largest sailboat racing and cruising club. Its membership is comprised of a number of level, one-design, and handicapped fleets, of many different types of boats.
The "small" in "Small Yacht Sailing Club" represents the minimal cost to join and enjoy club benefits; self-righting monohulls or trimarans of any size are welcome. Membership dues are only $120 per year and fund a full year of racing, cruises, educational events, and monthly newsletters. SYSCO has no initiation fees, and members pay no entry fees for club-sponsored races.
SYSCO-sponsored races consist of level, one-design, cruising class, and handicapped competition in three weeknight series in the spring and summer (each five or six weeks long), plus several weekend regattas. While the club takes buoy racing seriously, SYSCO is also known for fun and innovative races including the Dual Bridge Duel, the famous race/cruise rally to St. Helens, the Short-Handed Soaker, and the Crew Overboard Challenge.
SYSCO is not just about racing; the club is equally focused on engaging the sailing community. The club's cruising events include a week-long trip to the Columbia River delta in late July and casual weekend excursions throughout the summer and fall. Social and educational events include Fleet Night in February and the Race Clinic in April.