&nbsp
SYSCO Virtual Race Clinic

May 21 7-9PM
&nbsp
SYSCO Spring Series

April 21 - May 28 - CANCELLED
&nbsp
SYSCO Summer Series

June 2 - July 2
&nbsp
SYSCO Grow the Sport Beer Can

July 11
&nbsp
SYSCO Twilight Series

July 14 - Aug 27
&nbsp
SYSCO Delta Cruise

July 28 - Aug 2
&nbsp
SYSCO BBQs

CANCELLED
&nbsp
SYSCO Dual Bridge Duel

Aug 8
&nbsp
SYSCO St. Helens Race & Cruise

Aug 22-23
&nbsp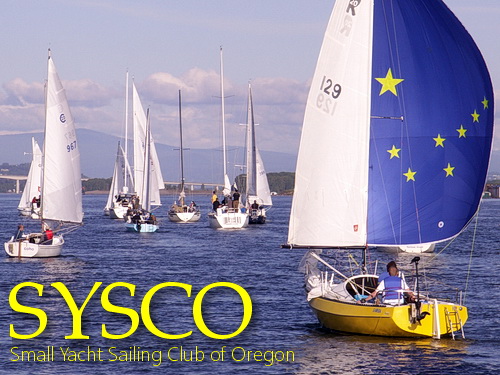 In this, the third month of the Covid-19 pandemic shelter-at-home order, we are seeing some light at the end of the social isolation tunnel as the governor is now allowing outdoor recreation in small groups. Please click on this link to download the latest SYSCO Newsletter, which is chock full of information about the "fun" racing that we are cautiously organizing for Tuesdays and Thursdays starting June 2nd.
https://syscosailing.org/newsletter/202005.pdf

————————————————————————————-

Sailors, especially those who are new to racing or new to racing on the Columbia River, should tune into the Virtual Race Clinic on Thursday, May 21 from 7:00 to 9:00 PM. Join the Zoom meeting link: https://us02web.zoom.us/j/89749858202 and press the button that gives permission to use your device's audio and video.

SYSCO Race Clinic is geared toward new racers, but all members of the sailing community, including crew, are invited to attend. Please Mute your Microphone during the main broadcast. Submit your questions as text via the chat function - Rear Commodore Michael Morrissey will be moderating your comments and we will try to get to them all.

The purpose of the Clinic will be to learn and review how to race on the Columbia River, including how to register for races, types of race courses, starting sequences, and local rules that govern a race. Because of the special circumstances this year with COVID-19, we will also discuss changes that are necessary to run safe and fun races. Because the session will be a video conference, we will record it and post the link on this site on the Resources page.